The tradition of the Undergraduate Research
Symposium in the Chemical and
Biological Sciences
continues for its 21st year
Saturday, October 20, 2018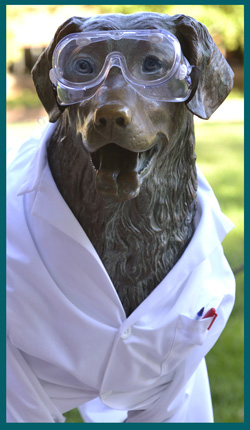 MESSAGE TO OUR 2018 PARTICIPANTS AND GUESTS:  We appreciate those of you who have shared information about your personal dietary restrictions and food preferences.  We have shared the requested dietary requests with the caterer, but, considering the number of guests, quantities of different foods and the range of dietary requests, we felt it advisable to make you aware of the challenges faced in such large environments.  We feel it is important to share that the food is served gratis, buffet style and, despite our best efforts, we cannot assure against cross contamination. We ask you to partner with us in this group atmosphere and take extra precautions to help us make the day extra special for our students and families. Therefore, if you have concerns that the food that will be provided at the symposium may not meet your needs, or could in any way negatively impact your health, plan to bring your own food to consume during the symposium or consider our other food vendors available that day, which will include 2Mato 11 AM – 1 AM (pizza & pasta – UMBC Commons, lower level) and Einstein Brother's (bagels) AOK Library, entrance area) 12 PM – 4 PM. Thank you.
---
This symposium seeks to display the diverse array of student-committed endeavors and foster the communication of their relevant novel results and concepts. The event exclusively features undergraduate research in all areas of chemistry, biology, and biochemistry with the understanding that progress at the chemical and biological interface requires cross-fertilization from the broadest possible spectrum of these disciplines.
The event features two poster sessions. Posters are judged by panels of participating mentors and other qualified attendees.  Judges rank first and second place posters in each category with non-financial awards presented at the event's end.
The event is free, but registration is required.  Light-fare refreshments and lunch are provided.  Faculty mentors and qualified attendees are encouraged to support this exceptional undergraduate experience by volunteering to serve as poster session judges.
---

This event is hosted by the College of Natural and Mathematical Sciences at UMBC along with the Department of Biological Sciences and the Department of Chemistry and Biochemistry.