2020 Undergraduate Research Symposium Announcement
After much thought and deliberation, we have decided to cancel this year's Undergraduate Research Symposium in the Chemical and Biological Sciences due to the COVID-19 pandemic. We feel that student presenters benefit the most from the extensive interactions that they have with their peers and the judges at the symposium. These types of meaningful interactions are difficult to facilitate in an online environment with over 300 posters being presented. We appreciate your patience and understanding during this difficult time, and hope to see you at the 2021 symposium next October!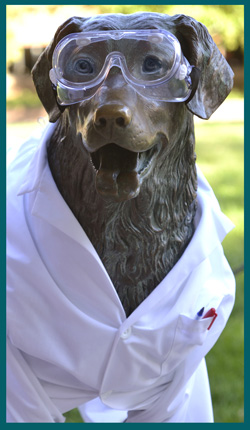 ---
This symposium seeks to display the diverse array of student-committed endeavors and foster the communication of their relevant novel results and concepts. The event exclusively features undergraduate research in all areas of chemistry, biology, and biochemistry with the understanding that progress at the chemical and biological interface requires cross-fertilization from the broadest possible spectrum of these disciplines.
The event features two poster sessions. Posters are judged by panels of participating mentors and other qualified attendees.  Judges rank first and second place posters in each category with non-financial awards presented at the event's end.
The event is free, but registration is required.  Light-fare refreshments and lunch are provided.  Faculty mentors and qualified attendees are encouraged to support this exceptional undergraduate experience by volunteering to serve as poster session judges.
---

This event is hosted by the College of Natural and Mathematical Sciences at UMBC along with the Department of Biological Sciences and the Department of Chemistry and Biochemistry.