Directions to UMBC
http://about.umbc.edu/visitors-guide/directions/
Parking at UMBC
Free parking is available in Lot 8 only (see event map). Lot 8 is most easily accessed by entering the Hilltop Road entrance to the campus. Please observe all parking regulations on campus.
Signs will be posted around campus to help direct you to available parking and On-Site Check-in and Registration on the 3rd floor of the University Center.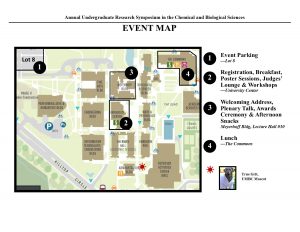 Area Cab Companies
The symposium does not specifically recommend any of the following cab companies.
Diamond Cab: (410) 947-3333
Baltimore City Taxi: (410) 327-7777
Arrow Cab: (443) 575-4111
BWI Airport Taxi: 410-859-1100
Pick up locations – Hilltop Road at Lot 8 and Performing Arts & Humanities Bldg (see orange "taxi" on map above)
Suggested Accommodations
A list of properties that offer special rates to visitors associated with UMBC is available: http://about.umbc.edu/visitors-guide/accommodations/.