2015 Speakers & Special Events
Plenary Talk

Emerging contaminants and resources: Environmental solutions to global problems
3:00 – 4:00 pm, Meyerhoff Building, Lecture Hall 030
Human-derived contaminants, such as pharmaceuticals, hormones, and pesticides, are being increasingly detected in the environment; furthermore, population growth is driving the depletion of critical resources. This talk will explore environmental solutions to these global problems with a focus on the need for sustainable, interdisciplinary approaches.
Lee Blaney, Ph.D., UMBC, Department of Chemical, Biochemical and Environmental Engineering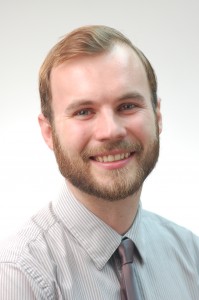 Lee Blaney is an Assistant Professor in the Department of Chemical, Biochemical and Environmental Engineering at the University of Maryland Baltimore County (UMBC). Lee received his BS and MS degrees in environmental engineering from Lehigh University in 2005 and 2007, respectively. In 2011, Lee obtained his PhD in civil engineering (with a focus in environmental and water resources engineering) from the University of Texas at Austin. Following his doctoral studies, Lee immediately joined the faculty at UMBC. Lee's research program is focused on two important areas: (1) detection, fate, and toxicity of contaminants of emerging concern in natural and engineered systems and (2) resource recovery from waste streams to ensure sustainable development. He is active in the Environmental Chemistry division of ACS and has organized several symposia on issues relating to contaminants of emerging concern. In addition, Lee chairs the Membership and Demographics committee of the Association of Environmental Engineering and Science Professors. Lee also serves as advisor to the UMBC chapter of Engineers Without Borders and Secretary of the EWB-USA Faculty Leadership Council. In 2015, Lee won the UMBC Donald Creighton Memorial Faculty Award for outstanding graduate student mentoring.
Workshops
Professional Communication:
How to Make the Right Impression

University Center, 3rd Floor
10:30 am – 11:30 am & 1:30 pm – 2:30 pm

In the world of science, we communicate with others many times throughout our day. Effective communication in STEM is crucial and is more than just exchanging information. Effective communication combines a set of skills including nonverbal communication, attentive listening, and the ability to respond appropriately. How well you communicate will determine the impression you make and how others understand your work. It may influence funding and many other opportunities. This session is designed to help you learn effective communication and how they can advance your professional image as a scientist.

Science, spiritual faith and truth: an interdisciplinary perspective

University Center, 3rd Floor
10:30 am – 11:30 am & 1:30 pm – 2:30 pm

Can the worlds of scientific research and spiritual faith co-exist? In this workshop, Freeland will take an interdisciplinary approach to introducing the broad realm of scholarship, from philosophy to history, that suggests it is logical for each scientific researcher to find his or her own, unique understanding of the relationship between these two, different "ways of knowing."

Susan Hindle
UMBC


Susan Hindle Susan Hindle is the Assistant Director, Internships & Employment for the College of Natural and Mathematical Science at UMBC. Susan has 15 years' experience working with students and alumni in all phases of the career development process. Prior to coming to UMBC in January 2014, Susan worked as a Career Advisor for the both the Clark School of Engineering at the University of Maryland and the Johns Hopkins University. Susan has her undergraduate degree in Elementary Education from the University of Maryland, College Park and her master's degree in Clinical Counseling from Johns Hopkins University.

Stephen Freeland
Director, Interdisciplinary Studies

Stephen Freeland is an Evolutionary Biologist who studies how and why life on our planet evolved a system of genetic encoding. He received a Bachelor's degree in Zoology from Oxford University, a Master's degree in Computing and Mathematics from York and a Ph.D from Cambridge before crossing the Atlantic to pursue a scientific career in the USA. A Post-Doctoral Fellowship at Princeton University led to a faculty position in bioinformatics at UMBC where he was tenured in 2007. For four years he relocated to Hawaii, working as Project Manager for the University of Hawaii Node of the NASA Astrobiology Institute, supervising a highly inter-disciplinary team of scientists who seek to understand how habitable environments are formed within the cosmos. Now back in Baltimore he heads up the Department of Interdisciplinary Studies with a special interest in the relationship between Science and faith.